If there were any justice in baseball, the Washington Nationals would have reached the NLCS.
After winning 97 regular-season games, their chances of winning a playoff series for the first time in franchise history seemed promising. To advance, they had to out-play a team that recently ended its own run of playoff misery, the defending champion Chicago Cubs.
But instead it's the Cubs who return to the NLCS after a dramatic 9-8 Game 5 win in Washington that included a bit of everything. Some observations from a memorable four-and-a-half-hour finale that officially ended on Friday the 13th…
WHAT A WAY TO LOSE
In the bottom of the eighth inning, the Nationals trailed by one with runners on first and second and two outs. They had a legitimate chance to tie the game, or maybe even take the lead.
With Wade Davis's pitch count climbing and Trea Turner at the plate, Cubs catcher Willson Contreras threw to first base in search of a quick out. Jose Lobaton made it back in time, but his foot instantaneously popped off the base, and first baseman Anthony Rizzo maintained contact with his glove. Lobaton was initially called safe, but the call was reversed on replay review and the Nationals' rally ended.
There's a lot to take in here. First, credit Contreras and Rizzo for their stellar defence. Second, why was Lobaton straying so far off first base? He represented the go-ahead run, not the tying run.
And lastly, there's something extremely unsatisfying about seeing a team's season effectively end this way. Sure, it's technically the right call, and you can't use these rules selectively, but does the rule really serve its purpose in this instance? Lobaton beat the throw, but the Nationals still lose in excruciating fashion because of a rule that doesn't quite pass the common sense test.
SEVEN-OUT SAVE
Having exhausted his trusted bullpen options, Joe Maddon called on Davis to do something he'd never done before: record a seven-out save. Davis had recorded six outs in the 2015 playoffs, but hadn't retired seven hitters in a game since August of 2013, when he was a starting pitcher for the Royals against—who else?—the Nationals.
Davis wasn't perfect, but he got the job done, throwing a season-high 44 pitches to close out the Cubs' win.
SLOW PACE OF PLAY
At this point it's pretty apparent that MLB playoff games take closer to four hours than three. There are ways to hasten pace of play, some more compelling than others, but would any of them bring the average time of game back to the three hour range?
Seems unlikely that the introduction of something like a pitch clock would shorten games so considerably. More likely, playoff games just take three-and-a-half or four hours now.
That's not necessarily a bad thing. These games are tense, with plenty of unexpected twists, after all. But MLB should still consider changing start times so that the most dramatic, meaningful games of the season don't end after midnight Eastern Time, when a substantial chunk of the potential viewing audience has gone to bed.
MAKING AN IMPRESSION
It's taken all of two days for Michael A. Taylor to go from capable but under-appreciated outfielder to proven post-season producer.
He hit a grand slam at Wrigley Field to give Washington a 5-1 lead in Game 4. Then, in Game 5, he hammered a neck-high Kyle Hendricks offering over the left field wall for a three-run homer (image via Baseball Savant).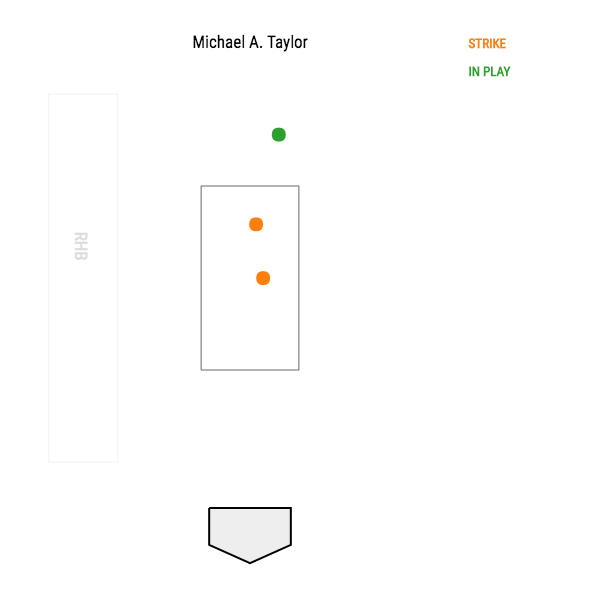 Taylor continued producing in the eighth inning, with a two-out RBI single that brought the Nationals to within one.
BIZARRE INNING FOR SCHERZER
When Max Scherzer entered this game, the Nationals led 4-3. By the time he exited, the Cubs had batted around and taken a 7-4 lead. Tempting though it might be to conclude that Scherzer pitched particularly poorly, that explanation oversimplifies an inning that defies explanation and lacks precedent.
An infield single off Scherzer helped set up a two-run double by Addison Russell, and that's where the game really veered off course. The next four batters reached via intentional walk, passed-ball strikeout, catcher's interference and a hit by pitch. If that doesn't sound familiar, it's because it hasn't happened before. Baseball-Reference has 2.73 million half innings in their database, and none have included all four of those events.