ST PETERSBURG, FLA. — A lot's gone wrong for the Toronto Blue Jays in 2018, but nothing's been more damaging than the instability of the club's starting pitching. Coming into the season, most presumed it would be a strength. Featuring a mixture of quality arms both young (Marcus Stroman, Aaron Sanchez) and old (J.A. Happ, Marco Estrada, Jaime Garcia) with proven track records, Toronto's staff looked promising in theory.
If you've been paying attention, you already know it hasn't worked out so well in practice. Toronto's starters had MLB's sixth-worst ERA (5.17) through April, and the seventh-worst (5.51) in May. Stroman — and his 7.71 ERA — is on the disabled list. Sanchez's 5.20 BB/9 is the second-highest in baseball. Estrada's 1.78 HR/9 is ninth-highest. That's how a club with pre-season playoff hopes wound up nine games under .500 and completely out of the post-season picture.
But then, suddenly, things turned. Starting with Sanchez's six-inning, one-run outing against the Detroit Tigers last Sunday, the Blue Jays rotation strung together seven consecutive quality starts. The club didn't do that once during the entire 2017 season, and hadn't gotten eight consecutively since the summer of 2016.
Not coincidentally, the club went 5-2 over that run, including a four-game sweep of the disastrous Baltimore Orioles. The Blue Jays clawed their way to within five games of .500, and, although Baseball Prospectus still gave Toronto only a 1.2 per cent chance of earning a playoff spot, the team's spirits and confidence picked up considerably. It just might have saved manager John Gibbons his job.
"No doubt, they've been on a nice little roll. It's something we've been waiting on," Gibbons was saying Monday afternoon in the visitors' clubhouse at Tropicana Field. "We've got to keep that going. It makes a huge difference, it really does."
Well, here's the point where the story turns. Sam Gaviglio, who pitched seven scoreless innings against the New York Yankees (MLB's second-best offence) his last time out, had all kinds of trouble against the Tampa Bay Rays (MLB's sixth-worst) Monday, allowing five runs over 3.1 innings as the Blue Jays fell, 8-4.
And a quick look at the location of the pitches Tampa Bay hitters put in play against Gaviglio tells you all you need to know about what went wrong.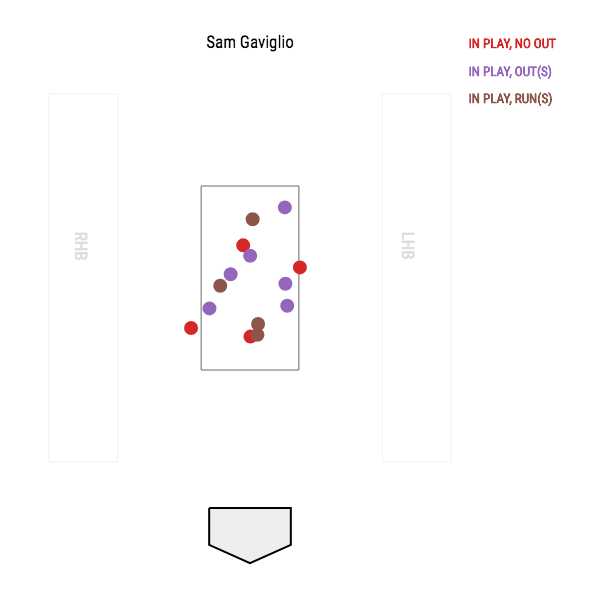 "I was a little up in the zone early in the game," Gaviglio said "I wasn't executing pitches like I normally do. It's hard when you start getting behind on hitters — it puts a little more pressure on yourself to make that quality pitch."
Gaviglio had particular difficulty locating his sinker down in the zone. Considering the pitch averages just 88-m.p.h., and tops out at 90-m.p.h., it's imperative that Gaviglio locates it down in order to generate groundball contact. Monday, that wasn't happening.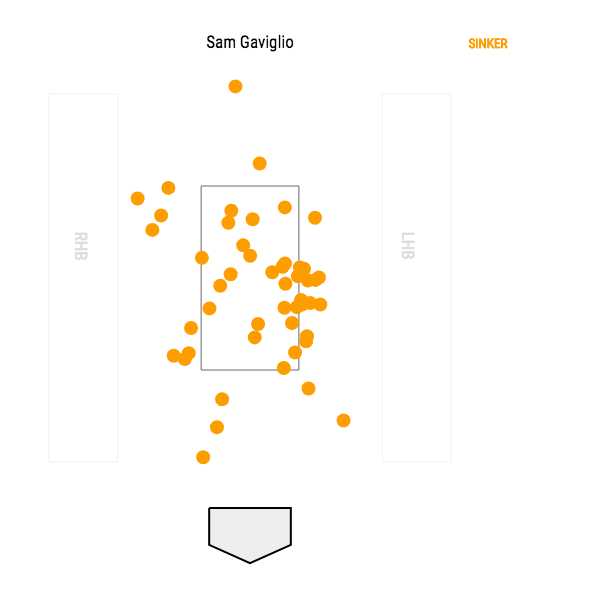 "I was just up in the zone. I'm just talking a matter of inches. And that's big for me. I need to be down. And next time I'm going to have a little more focus on that," he said. "It could be a couple things. Mechanically, I thought I was swinging a little bit. But I think it's more of a focus thing and I need to do a better job of it."
Still, despite the salty line, it wasn't exactly a disastrous outing. Gaviglio was bled slowly by the Rays, who got a run in the first on a sacrifice fly and two more in the third thanks to a series of groundball singles that found holes in the Blue Jays infield. Of the Rays first six hits, five were singles, as Tampa Bay hitters had plenty of success on balls in play while never quite squaring Gaviglio up.
"Yeah, that can get a little frustrating," he said. "Just a little bit right or left and someone's there and we get outs."
But that was very much not the case in the fourth when Jake Bauers got all of a 1-1 sinker up that ran over the middle of the plate, driving it 386-feet over the wall in right for a two-run shot. As the ball fell into the seats, Gibbons was already on his way to the mound to end Gaviglio's night at just 70 pitches. It was only the second time in 10 games this month a Blue Jays starter hasn't completed at least five innings.
"He was off, you could tell," Gibbons said. "That's not his game. It was a battle for him. But he's been really, really good."
Despite his rough night, Gaviglio still boasts a 3.66 ERA on the season (it was 2.51 coming into the outing) which is entirely respectable, and speaks to just how well he pitched before Monday's blow-up. He undoubtedly deserves to make his next start, although his rotation position will be tenuous upon the return of Stroman, who is scheduled to throw 3-4 innings in a rehab outing for the Dunedin Blue Jays Wednesday evening.
It's extremely unlikely Happ, Estrada or Sanchez are going to lose their footholds in the rotation barring the unexpected, and Garcia has been strong in two of his three outings since returning from the disabled list himself. Gaviglio may simply be the odd man out, and he could be optioned back to triple-A Buffalo where he began the season.
Of course, considering the state of flux Toronto's rotation has spent the year in, Gaviglio's services may be required again before long. And the Blue Jays will be more than happy to add a pitcher of Stroman's capability back into the mix, as he looks to put a disappointing start to the year behind him.
Ben Nicholson-Smith and Arden Zwelling take fans inside the Blue Jays and around MLB with news, analysis and interviews.
Making things more disappointing Monday was the fact the Blue Jays offence got off to a quick start against Rays left-hander Ryan Yarbrough. Kendrys Morales drove in one with a two-out single in the first, while Teoscar Hernandez added a couple more in the third, muscling a two-run shot over the wall in right-centre for his 11th home run of the season.
Randal Grichuk added another in the fourth, flaring a single the other way with runners on the corners to drive in his ninth run in Toronto's last seven games. But Gaviglio's inconsistent command and a rocky seventh inning from John Axford let the Rays extend their lead and turn a tight game into a minor blowout.
Returning for a second inning after a tidy four-pitch sixth, Axford issued a five-pitch lead-off walk to Bauers, before giving up a single to Wilson Ramos and hitting C.J. Cron with a first-pitch fastball to load the bases.
Joey Wendle lined the very next pitch right back to Axford, who knocked it down, scrambled to collect it, and threw wide of Russell Martin at the plate as Bauers slid home. Ramos followed shortly after as the ball skipped away. Axford was given both a fielding and a throwing error on the play.
"It's never an easy play. It can be kind of an awkward throw," Gibbons said. "But when you bobble it, too, now you start rushing. And that's what happens. He got what he wanted. But that's what happened."
Moments later, a Willy Adames sacrifice fly brought in the third run of the inning as the Rays stretched their lead well out of Toronto's reach. Despite getting to Yarbrough early, Toronto ultimately lost for a franchise-record 11th consecutive time against a left-handed starter. And it saw a promising run of strong starting pitching come to an end in the process.
"Consistency — that's been a big deal for us," Gibbons said. "We've had a hard time getting our rotation going. They've been pretty good lately. The last week they've been actually really good. But combining all phases of the game, whether it's defence, hitting, pitching — yeah, that's been the issue."